SEO optimering med video bliver vigtig fremover
Det at bruge youtube og få skabt indhold som du kan ligge op på din webshop, eller blog har en større og større betydning for din SEO Optimering af din webshop.
Ser på søgeresultaterne i Google (SERP) så er det tydelig at google er prioritere video mere og mere i det organiske søgeresultat. Der er stadig rigtige gode muligheder i markedet, men det er ved være tiden af komme i gang med få lavet videoer og få gang i en youtube kanal.
Glem ikke klassisk SEO, SEO med video er ikke nok alene
Alt er ikke video, du skal huske alle de klassiske formler når du begynder på din SEO optimering af din webshop, landing page eller blogs. Det er ikke nok med en video på din landing page når du gerne vil opnå organisk trafik fra Google.
Klassiske dyder som tekstformatering er vigtig
Det at bruge formatering af dine tekster er med at giver den besøgende et overblik når de rammer din side, og det er med at give Google et bedre idé om hvad det er din tekst den skal ranke på.
Brug af overskifter
Jeg vil anbefale at du arbejder ud fra følgende mønster:
H1 – Overskrift 1
Brug denne én gang på din side. Google mener godt at denne formatering kan bruges mere end én gang. Du skal huske at det keyword, eller søgeord ud gerne vil findes skal være i dette overskrift.
H2 – Overskrift 2
Denne kan du bruge flere gange. Husk at medtaget en variant af dit keyword i denne tekst. 

H3, H4 etc. Overskrifter af sekundær karakter
Du kan bruge dem til at gøre dine tekster mere overskuelige. Det er vigtig, da for lange afsnit ikke er en fordel for din ranking i Googles søgeresultatter.
Vil du gerne vide mere om optimering af tekster til SEO, så se mere her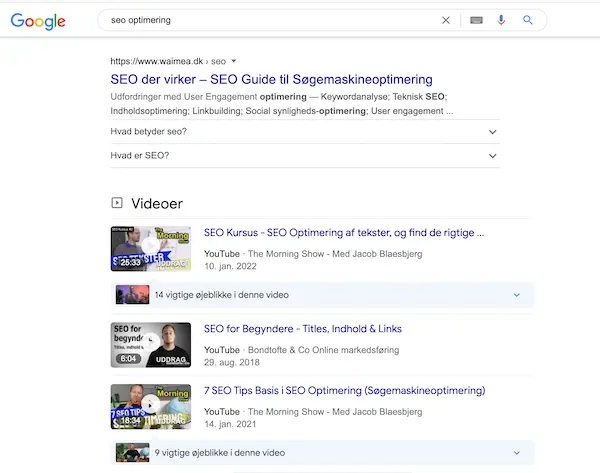 Flere og flere videoer dukker op i Googles søgeresultater
Det er til at få øje på – Video er på vej ind i SERP ( SERP er en forkortelse for Search Engine Result Page, eller på dansk søgeresultatside) med fuld fart – Jeg tænker at der flere årsager til dette, her kan jeg i flæng nævne:
Alfa (selskabet bag Google og YouTube) tjener penge på reklamer i videoerne
Folk til have video og ikke læse blogs
Det får det besøgende til at blive længere i Google Univers
Tracking til bl.a. Google Ads forbedres da videoer er en faktor
Der er stadig masser af plads
Da jeg skrev denne blog var der stadig masser af plads til dine videoer i søgeresultaterne på Google. Til gengæld vil vi se en masse content dukke op, der er bygget omkring video i den kommende tid. Det er ganske enkelt vejen frem, hvis du vil have mere trafik i fremtiden til dit webshop fra Google.
SEO optimering med Video er fremtiden
Det er tydelig at se, det er nu der skal rykkes på content (indhold) der er bygget op omkring video, hvis du gerne vil have en bid af kagen inden der kun er smuler tilbage på kagefadet.
Hvis du gerne vil have hjælp til din SEO optimering, er du velkommen til at kontakte os på email: [email protected] – eller give os et kald på
70 60 56 63.